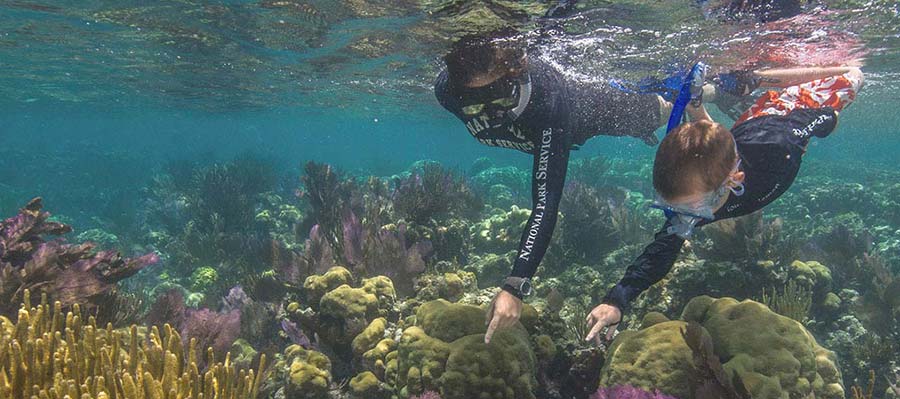 Do I need advanced reservations?
Generally, yes. The National Park Service strictly limits the number of visitors per day. Demand for seats is far greater than our small capacity. Typically, we sell out around 14 days in advance. At peak times such as holidays, we may sell out up to 3 months in advance.
Do I need a separate reservation with the National Park Service?
No, if you have a reservation with us you don't need to book separately with the NPS. We collect the $15.00 per person entrance fee (Adults 17 yrs. and over) on behalf of the NPS at check in. National Park passes are accepted and get up to 4 people in your party into the park. Active and retired military get in free of charge.
How many seats are there on the seaplane?
We operate two 10 passenger seaplanes, giving us a capacity of 20 passengers at any one departure time.
Are there toilets at Dry Tortugas?
Yes, there are always toilets available to our passengers. There are composting toilets located near the campground. Whenever the Fort Jefferson ferry is on the dock, these toilets are locked, and the ferry toilets become the public restrooms for everyone on the island.
Will my cell phone work at Dry Tortugas?
No, there is currently no cell phone service or WIFI at Dry Tortugas. In the event of an emergency the NPS Law Enforcement Officers have a satellite phone.
Are there tour guides at Fort Jefferson?
No, because of the remote location and minimal staff the NPS do not provide ranger lead tours of Fort Jefferson. There is a self-guided tour, (typically 45 minutes), and a visitor center that is open to all of our passengers.
Is there food or drink available for purchase at Dry Tortugas?
No, there is nothing available on the island. We provide soft drinks and coolers on all tours. If doing a half-day tour, we recommend you bring snacks, but plan to eat before or after your tour to maximize your island time. Full-day passengers need to bring a picnic lunch with them. (We can supply extra coolers and ice for your lunch.)
Can I bring back shells or coral that I find on the beach?
No, it is illegal to collect shells, coral or any artifacts in the National Park.
Are there any areas closed to the public at Dry Tortugas?
Yes, some areas of Fort Jefferson are closed to the public. These areas are clearly marked. For your safety please do not enter them. The adjacent island, Bush Key, is closed from February through mid-September due to ground nesting birds.
Can I fly my camera drone in the park?
No, drones are not allowed in US National Parks. This ban includes FAA licensed operators.
Do you offer overnight camping or one-way flights?
No, our contract with the NPS is only for half or full-day round trip tours. We cannot leave passengers on the island overnight, and we cannot accept any one-way reservations.