Dry Tortugas National Park and Fort Jefferson
The largest brick building in the western hemisphere
The Park is actually a 100 square miles but 98% of it is under water. The 7 tiny islands that make up the Dry Tortugas account for only 97 acres in total.
Fort Jefferson's most famous prisoner was Dr. Samuel Alexander Mud
The Islands were first discovered by Spanish explorer Ponce De Leon in 1513. They were first named Las Tortugas, the Turtles, due to the abundance of sea turtles. The word "dry" was soon added to mariners' charts to warn of the lack of fresh water.
The island we visit is called Garden Key. The first construction on Garden Key, in 1825, was a lighthouse to warn sailors of rocky shoals.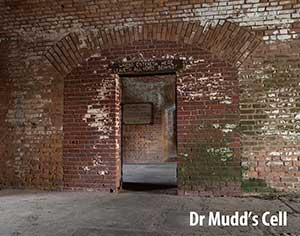 However the United States believed it could control navigation to the Gulf of Mexico and protect Atlantic bound Mississippi River trade by fortifying the Tortugas. Construction of Fort Jefferson began in 1846 and continued for over 30 years. The fort contains over 16 million bricks, making it the largest brick building in the western hemisphere, and covering 11 of the islands 16 acres. Despite the structure's enormity, and the years of work that went into building it, the fort was never finished.
During the Civil War, the fort was used as a military prison for captured deserters. It also held the four men convicted of complicity in President Abraham Lincoln's assassination in 1865, the most famous being Dr. Samuel Mudd.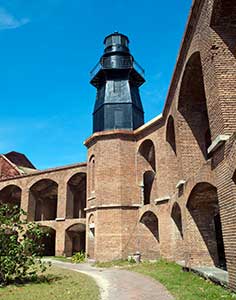 During its peak over 1,700 men were stationed at the Fort but it was plagued with construction problems and Yellow Fever epidemics. It crumbled under its own weight, cracking the rain-water cisterns and allowing salt water to penetrate into the precious drinking supply.
The invention of the rifled cannon finally made the Fort obsolete, as its thick walls could now be penetrated. The Army finally abandoned Fort Jefferson in 1874.
In 1908 the area was designated a wildlife refuge to protect nesting birds from egg collectors. Then in 1935 Fort Jefferson was proclaimed as a National Monument but it was not until 1992 that Dry Tortugas reached its current status as a National Park.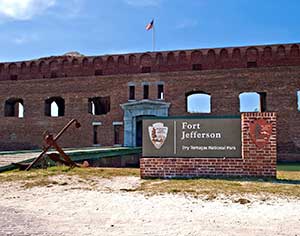 Today the park is run and maintained by a small staff of about 8 rangers. They live on the island in accommodations built into structure of the fort. They are kept surprisingly busy; their duties include the park management, law enforcement and maintenance. The remote location means they have to generate all their own power and make fresh water using a desalinization plant. They get their groceries and supplies delivered once a week on the National Park Service supply boat named the "Fort Jefferson".